Drake Community Library is happy to host a monthly gathering for those interested in the maker movement. The Grinnell Makers meets on the second Saturday of every month from 2-4pm at the library.
Area individuals of all ages are encouraged to come together to explore ideas, share expertise and get involved in the maker movement.  "Makers" are people who are interested in do-it-yourself projects and a "maker space" is a physical location where people can come together to make.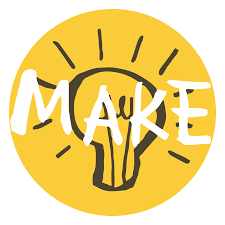 Grinnell Makers is a collaboration between the library and Imagine Grinnell.  Leading the group will be Rich Dana and Craig Shore.  Rich Dana serves as the Director of Imagine Grinnell, but is a jack-of-all-trades. He has been a studio artist, a building contractor, an organic farmer, a solar installer, and an environmental advocate. He was a founding member of the Cedar Rapids and Fairfield Iowa "Makerspaces," and is an avid woodworker, 3D printer fanboy and dumpster-diver. Craig Shore has dabbled in a little bit of everything over the years and can provide insight and assistance with mechanical systems, electronics, microcontrollers, composites, computer aided design, 3D printing, just to name a few.  An innovation intermediary consultant, he's especially interested in open platforms and the ways they encourage collaboration to advance ideas and technologies.
The gatherings are an informal collaboration time. Everyone is encouraged to bring projects they want to share or discuss, skills they have or want to learn. Rich and Craig will plan a focus for each gathering based on feedback from the group.