J. B. Grinnell and the Underground Railroad
Posted by

sharon

Date

February 18, 2019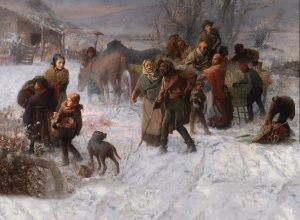 Join us on Tuesday, February 26 as Dave Connon of Humanities Iowa presents Josiah Bushnell Grinnell and the Underground Railroad. The program will begin at 7:00 pm, with refreshments served at 6:30. This presentation is sponsored by Friends of Drake Community Library and Humanities Iowa. The public is encouraged to attend a brief Annual Meeting of the Friends of Drake Community Library following the program.
J.B. Grinnell and other Grinnell residents helped at least 37 fugitive slaves who passed through their town before the Civil War. But some residents opposed this work. David Connon will tell a story of racism, noble actions and conflict. He will highlight abolitionist John Brown's visit to Grinnell, and Grinnell's first riot over the presence of fugitive slaves in the public school.
David Connon is an independent researcher and writer. He stumbled on to Confederates from Iowa while researching the Iowa Underground Railroad. During the season, he works as a historical interpreter at Living History Farms. A great-great-grandson of two Union veterans, his blog is Confederates from Iowa: Not to defend, but to understand.