Wednesday mornings from 10 am – 11:30 am
The Bucket Courses are presented by the Community Education Council (CEC) and feature area speakers and professors on a wide variety of topics. For information on upcoming classes or to view videos online of past classes, visit the CEC website.
*This program takes place in the Caulkins Community Room which is equipped with a T-coil hearing loop.
Monday mornings from 10-11am. GRMC's Senior Education Program provides programs designed for adults–of any age–to extend their knowledge on healthcare issues, community resources, current and cultural events, as well as other things. All programs are free of charge. SE*ED meets monthly during the winter months, and weekly the rest of the year. See info on upcoming SE*ED programs on the hospital website here.
*This program takes place in the Caulkins Community Room which is equipped with a T-coil hearing loop.
During the months of June and July, the Community Education Council, in conjunction with Grinnell College, will offer four courses on various subjects to adults in the community. The classes will be held on Wednesday mornings from 10 to 11:30 a.m. in the Caulkins Room at the Drake Community Library, 930 Park Street. Classes are free and refreshments will be served.
*This program takes place in the Caulkins Community Room which is equipped with a T-coil hearing loop.
Book Clubs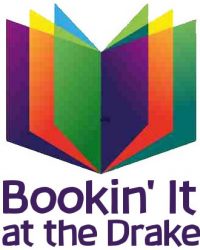 The library offers a book club discussion group several times throughout the year.  Learn about upcoming titles and dates at this page.
Other Groups
Various groups use the library to meet, many of which are not officially sponsored by the library but which the library enthusiastically hosts and is happy to help share information about. The Socrates Club which gathers every Thursday evening here is one such group. There is a poetry club that meets about every month that we could connect you with. There are also groups of writers and other book clubs that meet here as well. If you have a group that is open to new members and you'd like us to help spread the word. be sure to let staff know and we'll include your information here if the group is literary/educational by nature.
QiGong & Mindful Movement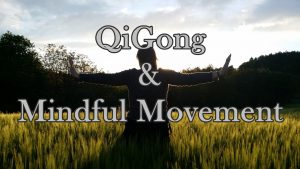 Join with others every Saturday morning from 9-10:30am for this ancient practice. The class is free and open to all with a free-will donation collected that goes to the library. Qigong is a form of gentle exercise composed of movements that are repeated a number of times, often stretching the body, increasing fluid movement (blood, synovial and lymph) and building awareness of how the body moves through space.
Socrates Cafe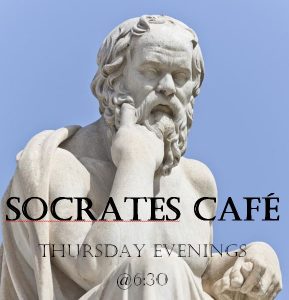 Socrates Café meets every Thursday evening at 6:30 pm. Socrates Café, technically, is a book written by Christopher Phillips (check it out from the library), author and co-founder of The Society for Philosophical Inquiry. Chris developed the idea of Socrates Café to do as Socrates did, bring philosophy to the every day individual. All are welcome to join in the discussion. For more details contact Laforest Sherman at 641.275.0501 (cell) or at laforestlistens@gmail.com.