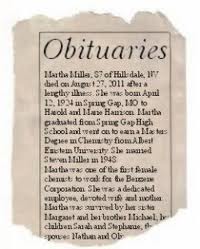 Access the DRAKE COMMUNITY LIBRARY OBITUARY DATABASE for thousands of  scanned obituaries from the newspapers of Grinnell and surrounding communities in Poweshiek County.  Obituaries date from the late 1800s to present day.
Click HERE or on the graphic to search the database.
Acknowledgements
Stewart Library, and subsequently Drake Community Library, gratefully acknowledges the contribution of the Grinnell Historical Museum volunteers to the Obituary Database project.  Museum volunteers developed and maintained a paper obituary file for many years and it has grown to include over 21,000 obituary records.  In 1999 Stewart Library and the Museum were joint recipients of a federal Library Services and Technology Partnership Grant to digitize this file.  The grant paid for the equipment and staff time necessary to enter the information into a database and scan each of the obituaries. Today, library staff and volunteers continue to add obituaries from the local papers to the database.
The museum remains a crucial part of this project and they will continue to maintain their paper file. The museum is open on Saturday and Sunday afternoons from 2-4 pm.  For more information call (641) 236-7827.
Other Links for Historical Information
State Historical Society of Iowa
Poweshiek County Historical & Genealogy Society
The Iowa Room – Grinnell College