WILBOR –  eBook & Audiobook downloads from Overdrive
Download gre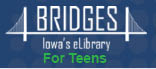 at audiobook titles day or night–your library never sleeps! Listen to them on your computer or transfer them to a compatible device. You can access most "classics" that may be required reading for your American and English Lit classes from the "Always Available" link in the lower left of the WILBOR page. Try the Overdrive mobile app to search for books directly from your mobile device. You will need your library card number and PIN to get started.
This service for Drake Community Library cardholders has been provided by a grant from Grinnell College.
OneClick digital is the new downloadable audiobook service from Recorded Books.  It includes titles for adults, teens, and children.  These titles are always available and you'll never have to place holds! Use the OneClick app to listen on your mobile device.

Award Winning Books for Teens
Printz Award for Excellence in Young Adult Literature
Book Trailers