Your library barcode number and pin are needed to get access to these great resources
Learning Express Library – a test preparation resource
Whether you are preparing to take the SATs or the GED, working to improve your math skills, or want to get your CDL or go to cosmotology school, there is a learning center here to help you.
You will need to enter your  library card number as Username. Then choose and enter a password of your choice. The resource creates an account for you so that you may return to the site and complete tests you have started!
Mango Languages
Want to learn a language that's not offered at school? Mango is an online language-learning system that can help you learn languages like Spanish, French, Japanese, Brazilian Portuguese, German, Mandarin Chinese, Greek, Italian, Russian and more.
DOWNLOAD eBOOKS / AUDIO BOOKS

BRIDGES – eBook & Audiobook downloads from Overdrive

Want to download that book for class as an ebook or to listen to on your ipod or other portable device? Check out the WILBOR collection and you might be in luck.
Many of the classics required for school are among the "always available" list. Look for  this image near the bottom of the page to get these titles.
OneClick digital is the new downloadable eaudiobook service from Recorded Books.  It includes titles for adults, teens, and children.  Many titles are always available (no holds necessary).
Click here for One Click Digital Help information.
Here are some other great resources you can find on the web, and you don't need your library barcode and PIN.
Math Resource
Want to try some Cool Math games and get ahead in Math?  Try out the Cool Math Website.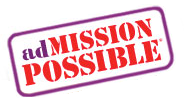 adMission Possible for College Admissions
Everything you need to know about finding, applying and getting into the best colleges for you. AdMission Possible will help you ace your college admission!