HeritageQuest is available within the library or for home users with a library account. It brings together census data, family records, local histories, and more into a single, searchable database. It provides access to the Periodical Source Index (PERSI), Freedman's Bank Records, and family and local history collections.
In Library Use Only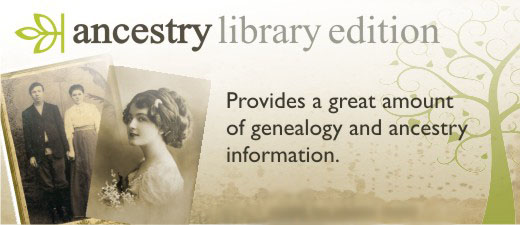 Ancestry Library Edition is ONLY AVAILABLE FROM WITHIN THE LIBRARY USING THE LIBRARY PUBLIC COMPUTERS*. It is a version of the popular Ancestry.com resource especially licensed for library use. It includes many of the popular databases found at Ancestry.com, including unparalleled coverage of Canada, the United States and the United Kingdom. It includes census, vital statistics, church, court and immigration records.
*The licensing requirements for Ancestry Library Edition are limited. We are sorry we can't provide this to people using their own laptops within the library or computers at home. To access the resource click on the Ancestry link from within the browser window on the public computers.
A great free resource to explore

FamilySearch is a genealogy organization operated by The Church of Jesus Christ of Latter-day Saints. It is the largest genealogy organization in the world. FamilySearch maintains a collection of records, resources, and services designed to help people learn more about their family history.