COVID CLOSURE HOURS (June 2020 until further notice)
Due to the COVID health emergency we are operated on a limited service basis. The library is closed to the public and providing curbside pickup and computer access by appointment only.
Service hours are 1oam-6pm on Monday – Thursday and 10am-2pm on Saturdays.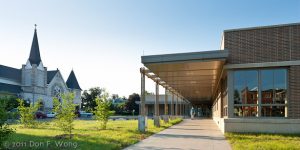 The library is located in at 930 Park Street, Grinnell, Iowa at the corner of Park Street & 5th Avenue. (The bright green box in the map). It is kitty-corner from Grinnell House at the southern end of the Grinnell College campus, and across the street from the United Methodist Church and the new Hotel Grinnell (scheduled to open Summer 2017).

School Year Hours
In effect from Labor Day to Memorial Day
Monday – Thursday
10:00 a.m. – 8:00 p.m.
Friday
10:00 a.m. – 6:00 p.m.
Saturday
10:00 a.m. – 5:00 p.m.
Sunday
1:30 p.m. – 4:00 p.m.
Summer Hours
Monday – Friday
10:00 a.m. – 6:00 p.m.
Thursday Late Night
10:00 a.m. – 8:00 p.m.
Saturday
10:00 a.m. – 5:00 p.m.
Sunday
Closed
Holidays
Open to 5:00 p.m.
New Year's Eve Day
Closed
New Year's Day * Easter Sunday * Memorial Day * Independence Day * Labor Day * Thanksgiving Day * Christmas Eve Day * Christmas Day