Special Home Access During COVID19 Closure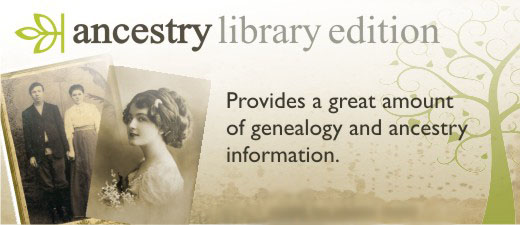 Ancestry Library Edition is generally only available from within the library. DURING THE COVID19 CLOSURE, ProQuest HAS OFFERED HOME ACCESS FOR THIS PRODUCT.  You must obtain the password to access the resource which is available via this page.  To get the password contact library staff between 10am-5pm weekdays by calling 236-2661, email library@grinnelliowa.gov, or use the Chat feature in the bottom right corner of this screen.
Ancestry Library Edition is a version of the popular Ancestry.com resource especially licensed for library use. It includes many of the popular databases found at Ancestry.com, including unparalleled coverage of Canada, the United States and the United Kingdom. It includes census, vital statistics, church, court and immigration records.
*The licensing requirements for Ancestry Library Edition are limited. We are sorry we can't provide this to people using their own laptops within the library or computers at home. To access the resource click on the Ancestry link from within the browser window on the public computers.
HeritageQuest is available within the library or for home users with a library account. It brings together census data, family records, local histories, and more into a single, searchable database. It provides access to the Periodical Source Index (PERSI), Freedman's Bank Records, and family and local history collections.
A great free resource to explore

FamilySearch uses one family tree.  There are over a billion unique profiles so users can view all records and contribute information. Users have also contributed over a million personal stories to the site. There are also family history activities.