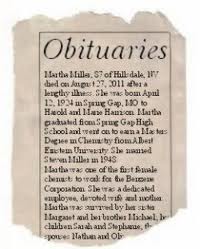 Access the DRAKE COMMUNITY LIBRARY OBITUARY DATABASE for thousands of  scanned obituaries from the newspapers of Grinnell and surrounding communities in Poweshiek County.  Obituaries date from the late 1800s to present day. Click HERE to search the database.
Newspapers represented in this database are predominantly the Grinnell Herald/Herald Register, Montezuma Republican, and the Brooklyn Chronicle. Obituaries from other newspapers are included when they have been submitted.
NOTE THESE ABBREVIATIONS USED FOR NEWSPAPERS:
Brooklyn Chronicle (BC)
The Chronicle (CH) – precursor to Poweshiek County CR for a short time in 2009
Diamond Trail (DT)
Grinnell Herald Register (HR)
Montezuma Republican (MR)
Poweshiek County Chronicle Republican (PCCR) – Brooklyn & Montezuma combined papers in 2009
This obituary database was made possible by the many years of hard work by volunteers at the Grinnell Historical Museum in maintaining files of area obituaries. They paper files provided the foundation for the initial building of this online database. They continue to do amazing work preserving the history and stories of the Grinnell area and are a regular partner with the library in related efforts.