Because of precautions surrounding COVID19 we will not have our usual programs this summer. We will miss seeing you at events, but are putting together activities on-line and creating free activity bags filled with books, art supplies, and activity suggestions.  We'll also make sure you can pick up books and other materials from the library using the Library To Go model until it is safe for us to open the building to the public.
Activity Bags
There will be four different activity bags distributed throughout the summer. Each bag will contain a variety of art and literacy activities and all materials needed to do creative projects. You are invited to pick up one bag per child at each pick up. The bags will be available outside under the covered walkway of the south entrance beginning at 10 am ending at 2 pm.
Thursday, June 11 – Make a Book
Thursday, June 25 – Collage
Thursday, July 16
Thursday, July 30
You can  pick up a brag tag and choose a free book with your activity bag! Bags are first come, first served. We may add some random weekly drawings. Please follow social distancing at the pick up.
USING THE ACTIVITY BAGS
The activity bags are designed to help children explore and be creative! There is an activity posted online with each bag but feel free to explore on your own. Grinnell College Museum of Art posts activities, projects, and videos created to help you connect more deeply with specific artworks. We will also post a link on our Facebook page with the planned activity but you can do anything!
Virtual Storytime Thursdays at 10 am

Storytime resumes virtually for the summer every Thursday in June and July. We can't wait to see you and read some stories!
Dates: Thursdays, June 11 to July 30
Time: 10 am to 10:30 am
Join in with Zoom link: https://wustl.zoom.us/j/93209474683.
Yoga for Kids & Caregivers

Grace Diehm, Wellness Specialist at Paul. W. Ahrens Fitness Center, will lead Zoom sessions with stretching and intentional movement. Yoga is a great stress reliever and fosters calmness. Beach towels make great yoga mats for kids. For infants to 4 year olds and their caregivers.
Dates: Tuesdays, June 16 & 30, July 7 & 21
Time: 10:30 am to 11 am
Join in with Zoom link: https://us02web.zoom.us/j/89039301494
Check out Books from the Library!
Until we are able to safely open the library to the public, we will be providing options for you to check out library books and materials for pickup. See this page for the most up to date information on this service.  The Library Director and City Administration will be monitoring the local health situation to determine at what point and under what circumstances we can open the library to the public. Keep up to date with developments by subscribing to the library newsletter here.
READSquared Summer Program
The library summer program is moving online using the READSquared app
How to get started: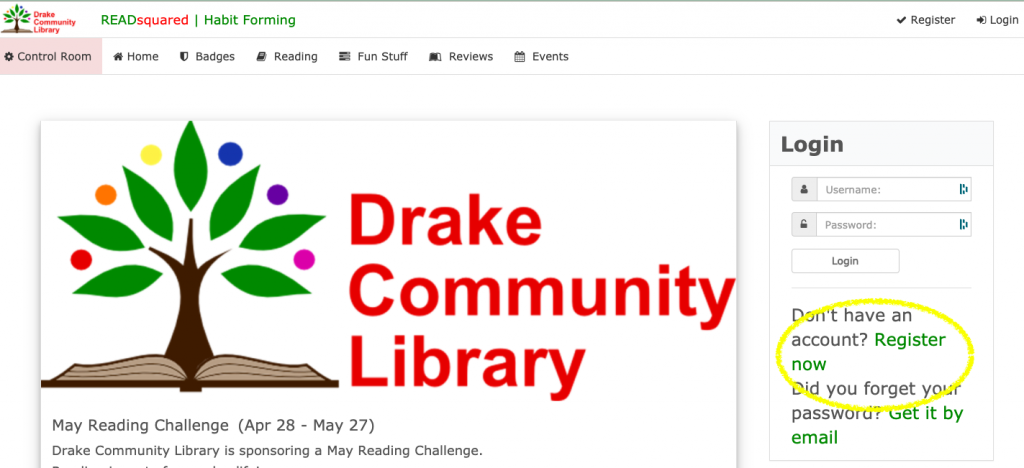 Enter your age and you will be placed in the appropriate reading challenge! We currently have a Pre-K (Ages 0-4), Children's (Ages 5-12), Teen (Ages 13-18), and an Adult Summer Library Program (18+).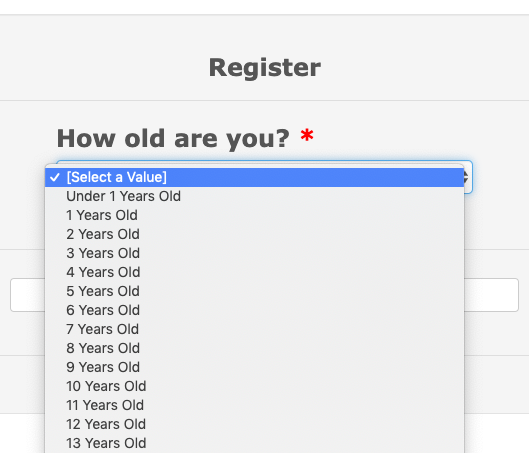 Fill in the rest of your information to finish registration!
Once you enter the program, explore the website by clicking around! Log in the minutes you read every day, write book reviews, complete missions, and earn badges and points! Reading for 20 minutes = 20 points. You can also earn points by attending virtual events,  and exploring and creating art.  
We challenge you to get 1,000 points over the summer!