Through digitization, Drake Community Library is able to bring you some of our treasures from the past. We also have many in-house resources to aid your research of Grinnell's rich history. Also visit the Poweshiek History Preservation Project page.
Heritage Collections
Drake Community Library is a participant in the Iowa Heritage Digital Collections database project. All 38 photographs from the Billy Robinson Collection have been digitized as has the Spaulding Manufacturing Collection. See these Grinnell photos here.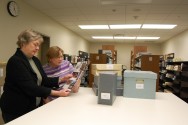 The Grinnell Room
Our growing local archives are maintained by volunteers under the guidance of head volunteer archivist Dorrie Lalonde. The collections include the records of many local organizations, Grinnell High School yearbooks, and various personal papers and photographs.  The collections may be viewed and used by appointment as staffing levels permit.  Call the library at 641-236-2661 for more information.
Description of archived collections is gradually being added to our online catalog for easier searching.  Additionally, a listing of archived materials held in the Grinnell Room pamphlet file is available at the library.
Obituary Database
Obituaries from local area newspapers dating back to 1871 are indexed in a searchable database. A pdf file of each obituary in the collection is available for viewing/download. This service is accessible in the library and online.
Historic Grinnell Photo Galleries
Dozens of photos from our archival collection have been scanned and are available to view online. Get a glimpse of historic Grinnell in the following four galleries:

Voices from the Past
A Grinnell oral history project recorded the experiences of residents as they lived through the Great Depression and World War II. Share their memories through taped interviews, video, transcripts, and photographs. These resources are available in the library and through an online version. For optimal viewing a fast Internet connection is best.  A dial-up modem connection will work but downloading can take a very long time.
Copyright Information for Drake Community Library website and archival materials.